Roland Vikström – Lean Six Sigma Black Belt
Roland Vikström – Lean Six Sigma Black Belt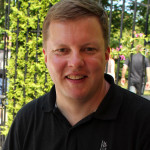 To me quality of life is improving the world and those living in it by starting with myself, to create a sustainable culture for everyone to live in.
I believe that the best way to create change is by being a role model, lead the way and clearly show what the goal is.
Currently I live my life by trying to be a role model for my kids and show them how everything in the world is connected and our place as humans in the big scheme, in my professional life I try to be a role model by never stop learning nor growing professionally and aim to work at companies that improve quality of life.
These values paired with the formal training as a Six Sigma Black Belt and my interest for human behavior and problem solving is what I bring to the quest of improving the world.
This is what I do at my day job

"I can't make it any clearer than that!"
This is what I do whenever I have the chance

"Telemark is Cool!"